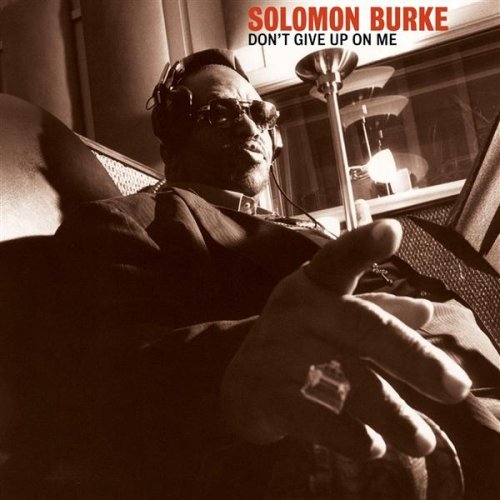 [Welcome To the Rockaliser 30, a month-long series devoted to classic albums that have been eclipsed, forgotten, misheard, or otherwise not given their propers. This is Day Two. Archive here
.]
Solomon Burke's honorific, the "King of Rock 'n' Soul," wasn't exactly self-proclaimed, but it was a title he grabbed and ran with. If it seems like a title out of step with his commercial successes (modest) or critical standing (respected, not revered), that's because it probably is.
But the goodwill Burke inspires can be seen in the songwriting credits of
Don't Give Up On Me
, his 2002 comeback. Rock Gods such as Bob Dylan, Van Morrison, Tom Waits, Dan Penn, Elvis Costello, Brian Wilson, and Nick Lowe all responded to Burke's call and contributed original material.
Truthfully, I didn't realize Burke
didn't
write these songs until I'd already heard them ten times. His imprint on every moment is unmistakable. Consider the delicate folk of the title track: Burke desperately, proudly begs his lover for another chance: "If I don't get it right today/There's always tomorrow/and tomorrow night." The song is almost a duet between Burke's husky cry and the wistful organ of Rudy Copeland, who played organ in Burke's church. When the song ends with Burke moaning "please, please, please/don't give up on me," you hear echoes of James Brown's classic, only sung with the wisdom and urgency of a man in his sixties.
Throughout
Don't Give Up On Me
, Burke sings with passion and authority--the man was a preacher, after all. His phrasing is impeccable. His voice can't drift up to those high notes, but he mines the earthy lower registers of his instrument. On the smoky "Flesh And Blood" he even turns his mouth into a trombone.

The Don't Give Up On Me band provides Burke with big backdrops on each of these songs, playing a rootsy soul and folk. This is one of the best organ albums since Blonde On Blonde, and musically not too far from Dylan's "Love & Theft". The tone is sometimes comic, which works well with Burke's big personality. But things often get dark--three-quarters of this album sounds like it was recorded in the early morning hours. Songs about powerlessness bring out Burke's most powerful vocals--the title track, "Fast Train," "Soul Searchin'", "Sit This One Out."
The rock luminaries here all turn in material that suits the big man well. But the front-to-back quality of
Don't Give Up On Me
begs the question: were there songs that the King of Rock 'n' Soul couldn't imbue with passion, couldn't make his own?