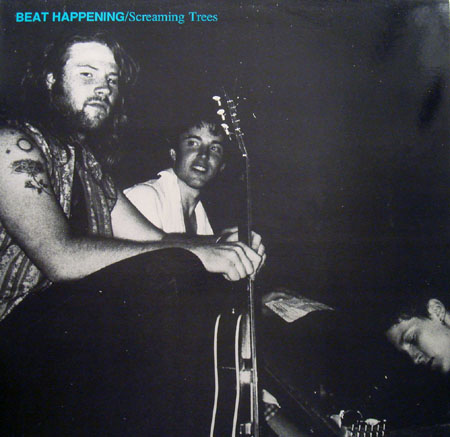 [Welcome To the Rockaliser 30, a month-long series devoted to classic albums that have been eclipsed, forgotten, misheard, or otherwise not given their propers. This is Day Four. Archive here.]
I'm pretty sure that my college radio station had a vinyl copy of this EP. If it didn't, it should have--
Beat Happening/Screaming Trees
is a rough, wonderful distillation of late 80's indie. It seems like a weird pairing in retrospect--the sugary dissonance of Beat Happening complimenting the dazed aggression of Screaming Trees--but an imminent, worldwide craze for Pacific Northwestern rock probably seemed unlikely in the days leading up to
the International Pop Underground
. Which is to say, it wouldn't have seemed so weird back in 1988.
The aesthetic here hews closer to K Records than it does to SST. Beat Happening's Heather Lewis and Calvin Johnson take lead vocals on three of the four tracks. Opener "Sea Babies" is probably Lewis' most forceful vocal ever, which pairs nicely with the slightly beefier sound the Screaming Trees bring. Calvin Johnson's bracing moans drift alongside a heavenly keboard riff on "Tale of Brave Aphrodite"--a great Beat Happening song they never would have written on their own. With closer "I Dig You" the bands play some forgotten 60's dance craze, while Johnson does his loser romantic act. It never got old, at least while Lewis and Bret Lunsford were playing with him.
Mark Lanegan takes lead vocal only on "Polly Pereguin," which
a young rock fan
and K Records obsessive from Washington thought was the best pop tune of the 80's. It's an earworm, for sure, with a messy riff and drumkit that sounds like Rubbermaid trash bins. I'm sure it sounded great on 80's college radio--it still did in 2008--especially with the extra kick of distortion that low-power FM provides. It's the sort of song you hear on the radio just once, accidentally, and never forget.