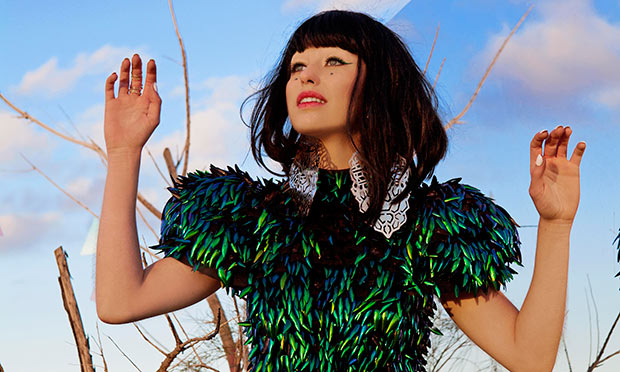 1. D'Angelo and the Vanguard, Black Messiah
Out of nowhere, D'Angelo and his appropriately-named backup group cast a spell of hypnotic jazz-funk-hard rock-flamenco-Great American Songbook-Beefheart-There's a Riot Goin' On jams so potent that they make up for 14 years of silence.
2. Freddie Gibbs and Madlib, Piñata
Culled from years of relaxed sessions between the Gary, Indiana emcee and former Stones Throw's vinyl virtuoso, Cocaine Pi
ñ
ata (the semi-official title) finds Gibbs smoking Madlib's best-laid rhythms like they were nickel bags. A soul sample lover's paradise.
3. The Underachievers, The Cellar Door: Terminus Ut Exordium
As the title suggests, this LP is all about linguistic beauty unrelated to meaning. Issa Gold and AK have the endless back-and-forth energy of a young OutKast, and like that group, their tightness reinforces each other's skills.
4. Kimbra, The Golden Echo
With her stunning musicianship, ace choice in collaborators, unlimited vocal range, and twin allegiances to the groove and the avant-garde, the New Zealand pop star is in a class with only one other artist: Janelle Monae.
5. Schoolboy Q, Oxymoron
Schoolboy is the edgiest, nerviest, most unpredictable rapper in the Top Dawg roster and perhaps on the entire West Coast. Oxymoron is a gangsta/confessional record that is alternately a scary, hopeful, and thrilling window into the mind of a restless thinker.
6. Boris, Noise
Another year, another Boris album with a so-generic-it's-audacious title, another set of explosive churning stadium rockers that never go anywhere one expects. "Angel" is the 19-minute monster of the year.
7. Goat, Commune
Do I care about Goat's devotion to Swedish vodou traditions and communal mysticism? Not really. But their music is enveloped in pleasure, bursting with dozens of uncharacteristic influences (afrobeat, psychedelia, drone, Beatlesque melodies) that will dizzy the listener who attempts to identify them.
8. Sturgill Simpson, Metamodern Sounds in Country Music
The psychedelic qualities of this record are overstated--this is outlaw country-rock in the Kris Kristofferson, Gene Clark mode that is stronger because it demonstrates Simpson's authentic songwriting before lightly breaking the Nashville sonic mold (unforgettable album closer "It Ain't All Flowers").
9. Big K.R.I.T., Cadillactica
No one seems willing to anoint Big K.R.I.T. "king of the south," so he made this 15-song case. This time, he leaves the production to others and refines his songwriting and hooks. Is there a better rapper in America?
10. Run the Jewels, RTJ2
Best listened to divorced from thinkpieces on Ferguson, etc. (as if Killer Mike and El-P were the first rappers ever to protest police brutality), I prefer to think of RTJ2 as the best rap-rock record since the Judgment Night soundtrack.